Cheap Coffee!
T
he daily Starbucks or the like is probably the #1 target of those smug, annoying know-it-alls who get satisfaction from lecturing the rest of us on why we're not saving enough. And I confess to ridiculing as extravagant single-serve coffee drinkers—not very nice of me considering I never tried single serve coffee until last week! (I liked it—but then I didn't pay for it. 🙂 )
Get Your Good Coffee and Save Money Too!
I like a good coffee buzz as much as the next guy. But I don't want to spend $3+ a day on it. At least not every day. So I found a place to indulge my coffee habit and save money at the same time.
If you're a coffee (or tea) drinker, check out Coffee Wholesale USA. This place sells lots of stuff besides just coffee. From their homepage:
Certain "selected" products are eligible for free shipping to the 48 contiguous U.S. states too!
Here are a couple examples of specific product offerings:
Is Coffee a Health Food?
Coffee's gotten a bad rap over the years. Seems someone is always working to ruin anything fun. 🙂 But according to the esteemed Mayo Clinic, here's the scoop on coffee:
Many studies have shown that coffee decreases the risk of type 2 diabetes.
Among coffee drinkers, coffee may be the largest food source of antioxidants — substances that protect cells from the damage caused by unstable molecules called free radicals.
A number of studies have shown that coffee drinkers benefit from a protective effect against Parkinson's disease.
Coffee may reduce asthma symptoms.
Coffee may reduce gallstone formation.
Studies also have shown that coffee can improve cognitive performance.
Three studies have shown a decreased risk of suicide with moderate coffee consumption.
Coffee seems to offer a protective effect against liver disease including cancer, especially among those who drink alcohol.
Like anything, moderation is usually wise!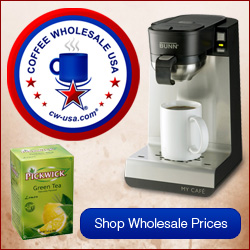 Special Introductory Promotion
If you like Coffee Wholesale, here's a promotion code to get you started:
Save 10% off on orders of $100+ all August long at Coffee Wholesale USA! Use code CW10AUG at checkout!
Are You a Coffee Drinker?
If you're a coffee drinker, how do you get your daily fix? At home? Old-fashioned brewer or single-cup brewer? Or maybe you stop by the coffee shop each morning?
Money Counselor may receive compensation if you make a purchase through links in this article.
Copyright secured by Digiprove © 2013-2014 Kurt Fischer