Credit Sesame Overview
The site and service CreditSesame.com can help you stay on top of your credit and debt, shop for the best mortgage, track your financial progress, and make better financial choices. All this reduces to one big benefit: You'll save money, possibly thousands of dollars over, for example, the lifetime of a mortgage. How much is all this going to cost you? Nothing.
What's the Catch with Credit Sesame?
If there's a catch with Credit Sesame, I haven't yet found it. Maybe commenters on this post can clue us all in if I've missed something.
For Credit Sesame to do its thing, you need to provide it with a lot of personal information like your Social Security number and financial account numbers. That scares me, and it should you too. Here's what Credit Sesame has to say about the security of the information it collects:
Your information is always encrypted. We use firewalls, 128-bit SSL encryption, and 256-bit AES encryption—the strongest encryption methods available online and used by banks and the government.

Our security practices are approved by Verisign and Experian. TRUSTe has also validated our website privacy practices. McAfee SECURE certifies our site is secure, passing their intensive daily security scans.

Our servers are located in a secure facility with 24-hour monitoring and surveillance.
Okay, I'm insufficiently techie to grasp the significance of all that, but I have to concede it eases my fears. But, as we all know, there's no such thing as foolproof data security.
Next the cynical little man in my brain says, "Yeah—sign up with these guys and watch my postal and virtual mailboxes fill up with junk." Again from Credit Sesame's website:
The nice lady in the photo doesn't look overwhelmed by junk mail. In fact, she looks as if someone spiked her coffee.
While this blurb is reassuring, it is only a blurb. So I read Credit Sesame's entire Privacy Policy, and I found nothing extraordinary. Please review for yourself before signing up.
Credit Sesame's Services
Free monthly credit score and credit report summary To get your full credit report—from Experian—you have to pay Credit Sesame $9. Only a report summary is free. Unless you have an urgent need, you don't need to pay for a credit report. You can and should get one free credit report annually from each of the three credit reporting bureaus (of which Experian is one), so three free reports per year. And with respect to credit scores: I think an artificial mania's been whipped up around credit scores as a result of clever marketing by companies that produce and sell credit scores. But if you can get a credit score for free every month, why not?
Real-time alerts  This feature can help you learn over time how different behaviors and choices affect your credit score. And it can let you know of better loan and credit card deals based on your personal financial profile.
Trending charts  The positive reinforcement of charts with favorable trends can't hurt. Most of us find motivating a record of our progress toward a goal.
Mortgage Research Center  Whether you want to refinance or are buying a home, CreditSesame.com says its "analytics engine analyzes your credit history and debt picture against national lender mortgage rates to find you personalized mortgage offers for which you actually pre-qualify, suit your budget and are best matched with your financial goals." Though the English in this description is slightly tortured, the service sounds useful.
Credit Card Research Center  Similar to the mortgage tool, Credit Sesame says it "analyzes your credit profile and information to help you find the best credit card for your financial standing".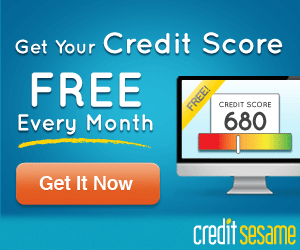 With respect to mortgages and credit cards, I think you'd still need to scrutinize carefully the recommendations made by Credit Sesame to assure that money changing hands between lenders and Credit Sesame hasn't, shall we say, influenced the outcome of Credit Sesame's analysis. I have no evidence that such is the case; I'm just the sort who habitually suspects conspiracy. 🙂
Do I Use Credit Sesame?
I don't use Credit Sesame. If I were working to improve my credit rating over time, considering taking out a mortgage or refinancing my current mortgage, or if I used credit cards a lot, I think I'd give it a try though. In these circumstances, I see the potential to save a bunch of money and improve financial decisions through Credit Sesame's services.
Credit Sesame Promo Code
Again, I do not recommend paying for a credit report unless you have an urgent need for one and have consumed the three free reports to which you're entitled annually. That said, here's a promo code worth 50% off the cost if you do find yourself obliged to purchase a credit report.
 Promo Code: SESAME50
Do You Use Credit Sesame?
If you've signed up with Credit Sesame, please share your experiences, whether good, bad, or ugly.
As a Credit Sesame affiliate, Money Counselor may receive compensation if you sign up for a Credit Sesame service through one of the Credit Sesame links in this post. That doesn't mean I don't believe what I wrote—I do.
Copyright secured by Digiprove © 2013 Kurt Fischer