Dealspotr Review
I've been having fun—and earning money!—exploring and gradually engaging with a site called Dealspotr. Let me first disclose that I've become on Dealspotr an "Official Influencer," to use Dealspotr's lingo. Among other things, that means if you join Dealspotr by clicking on the badge just below, I'll earn Dealspotr points! (More about Dealspotr points later.)
Also, an exclusive offer for Money Counselor readers: When you join Dealspotr through a link on this page, you'll have the opportunity to enter a promo code. Use the promo code MONEYCOUNSELOR, and you'll receive and extra 5,000 points!
[Hey fellow bloggers and social influencers: If after reading this review and checking out Dealspotr you're interested in joining, give me a shout. I can send you an access code that will give you an automatic Dealspotr upgrade to Verified Influencer. You'd get an immediate chunk of Dealspotr points and other benefits to help you monetize your Dealspotr engagement.]
But this review isn't all about me. Unless I thought you would enjoy and benefit from Dealspotr, I wouldn't be writing about it!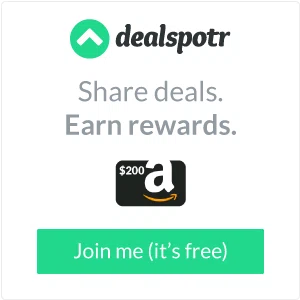 What is Dealspotr?
The Dealspotr site and platform is a bit challenging to describe in brief, partly because there's a lot going on. The site is engaging, that's for sure, and is fun too. And it's all free. Here's an excerpt from the "What Is Dealspotr" section of the website's About page:
#1 – A BETTER WAY TO SEARCH FOR DEALS AND COUPONS
A great deal search experience requires two things: coverage and accuracy. Coverage means we'll have deals and coupons for any store or product you might search for. Accuracy means those deals have been checked and verified and we have high confidence that they work as described. Dealspotr is the only coupon app in the world that leverages crowdsourcing at scale to create a real-time database of deals with high precision for over 60,000 entities. This means our 30,000 community members add over 10,000 deals and make over 100,000 edits each day to ensure we have the industry's largest and most accurate database of coupons. On Dealspotr, you just search, and, if one exists, you'll find a deal for what you're looking for.

#2 – A MODERN SYSTEM FOR KEEPING UP-TO-DATE ON DEALS YOU'LL CARE ABOUT
With Dealspotr, you get a personal feed (like your Facebook news feed) containing all the deals you might be interested in each day. Since we source our coupons from thousands of sources (not just the stores themselves), you'll be getting the best coverage of deals when you use Dealspotr. You can turn on or off notifications for specific brands, interests, or people.

#3 – A PROFIT-SHARING ETHOS
On Dealspotr, you earn rewards and income for making our site better, and growing our community.

#4 – A SELF-SERVE PLATFORM FOR BRANDS TO PROMOTE DEALS
Today, if you're a retailer, you can register on Dealspotr, add your store, and begin adding your own deals to our database, where they will be seen by our community of 30,000 deal enthusiasts and over 1 million visitors, who may share them, on Dealspotr and off.

#5 – A CONNECTING POINT FOR INFLUENCERS
If you're an influencer, we know that networking is your lifeblood. Collaborations, cross-promotions, brands connections, and getting to know other influencers in your niche – these are all essential to growing your presence as an influencer. With Dealspotr, we're creating an open, social platform for influencers to promote themselves, meet each other, and connect with brands.
In my own inadequate but succinct words, I'd say Dealspotr is primarily a platform for sharing, reviewing, and accessing coupons, codes, and deals for brands, products, and services. Dealspotr members post bargains and offers ("deals") that they've discovered, spot deals they believe will become "hot," curate deals posted by others (validating, commenting, editing, and otherwise posting feedback on others' deals), and collect Dealspotr points for all of these and other engagement activities.
What's the big deal with points? On Dealspotr, points = money. For example, I'm presently working my toward a $10 Amazon gift card.
I earned 125 points just before taking the screenshot above simply by spotting a deal that later turned "hot." Here's the deal I spotted:
A bit later I earned another 125 points for spotting a deal at Sears that turned "hot." Soon thereafter I earned another 75 points because the Sears offer turned "on Fire."
Earning these 325 points took about 90 seconds of my time.
And as you can see from the points progress bar above, I've already earned—without much time and effort—nearly 13,000 Dealspotr points. That means I have a $10 gift card banked, and I'm working my way toward a second gift card. Cool!
Posting a Deal on Dealspotr
I've posted just one deal on Dealspotr—an unadvertised $4 discount on cold cereal offered at a grocery store chain. Here's a typical deal posting:
If I click on the deal, I get this detail:
As you can see, this particular deal has been validated. When I posted my deal, I had to offer some proof that the deal actually exists. I uploaded a scan of my receipt, because I took advantage of the deal myself. Validation and other curation done by Dealspotr members really help in assuring members that a deal is real.
Personalized Feed: Another Cool Dealspotr Feature
I haven't played around yet with customizing my feed, but I can see that doing so will greatly improve the value to me of Dealspotr. Here are the first two listings in my feed right now:
I can personalize this feed to focus on brands, stores, interests, or Dealspotr members who I learn tend consistently to post really great deals. Spend some time personalizing your feed, and there's little reason for you ever again to buy without getting a deal!
To give just one example, you might choose to add the Apple brand to your personalized feed. Here's a summary of the Apple-related deals on Dealspotr at the time of this writing:
27% average savings—that's not bad!
On Dealspotr, the More You Engage, the More You Benefit!
I suggest trying out Dealspotr at least for discovering deals at retailers you like or for your top couple of interests, and for searching for deals on a specific product you're interested in buying. I think the time investment will really pay off.
If you want to get further engaged and earn points (redeemable for gift cards), try posting deals, spotting deals, and referring others to Dealspotr.
Dealspotr Review Summary
In a nutshell, I'm having fun—while saving and earning money—with Dealspotr. Whether you have time to check it out is up to you. A good way to get your feet wet I think would be to search for a deal on Dealspotr the next time you have something specific in mind that you need to buy. Success there might inspire you to set up a customized feed featuring your interests and favorite brands and retailers. Just by doing that, I think that potentially you could save a ton of cash.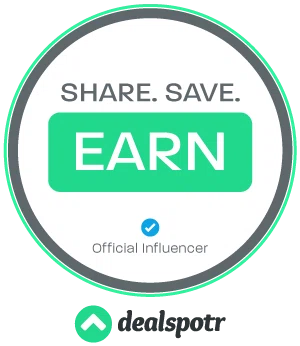 Copyright secured by Digiprove © 2016 Kurt Fischer