High Home Insurance Cost?
If you're a numbers nerd like me, you should spend a little time cruising Statistic Brain. A numbers person could lose him or herself there in the often useless but still interesting data. If on the other hand you, like Ms. Money Counselor, prefer to spend time interacting with people instead of browsing numbers, you may find Statistic Brain tedious. Either way, I'm glad you're the way you are. 🙂
Average Home Insurance Premiums By State
Here's something from Statistic Brain I found interesting: average annual home insurance premiums for most U.S. states.
Source: Home Insurance LLC, March 2012
Surprises in State Home Insurance Premiums
Oklahoma is #1? I wouldn't have guessed that, but I suspect that the state seems to attract tornados like big-haired women attract male politicians have put a whuppin' on the state's home insurers, and they want their money back. As global warming really gets cranked up, expect tornado alley to trend toward tornado superhighway. (Oh wait, Oklahoma's U.S. Senator James Inhofe says that at least human caused climate change is a hoax because "God's still up there" and it's outrageous for anyone to believe human beings are "able to change what He is doing in the climate." I stand corrected.)
Louisiana and Florida I get—Katrina, Andrew, and other big blows are likely responsible—and no doubt superstorm Sandy has propelled New Jersey far up the list since these figures were collected. But what about landlocked Arkansas at #4? Regular ice storms? Meth lab-landia? The Walton family sells home insurance in Arkansas? That one I don't get.
I used to live in Minnesota, so I can vouch for the high home insurance costs there. A few destructive hail storms in the 2000s drove up premiums during my 18 years of residency in The Gopher State. (How's that for a state nickname? Almost as alluring as The Aloha State, don't you think?)
Are You Above Average?
If your home insurance premium is above the average for your state and you haven't made any or many claims, maybe you can do better. And maybe you have more coverage than you need or a needlessly low deductible.
Shop Around for Cheaper Insurance!
Insurance is a competitive business, and it's easy to shop around.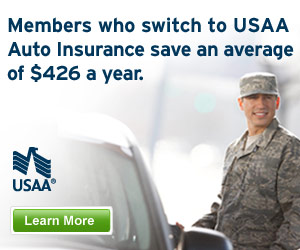 If you have U.S. military connections—or for some products, even if you don't—USAA.com is worth checking out. The list of people eligible for USAA membership includes: active military; veterans; spouses of USAA members; widows, widowers, and former spouses of USAA members; individuals whose parents are or were USAA members; and former USAA members. USAA sells all kinds of insurance, and offers many more services including banking, investments, mortgages and real estate, retirement planning, health insurance, and discount programs for travel, retail shopping, and more.
Most of USAA's products are reserved for those who fit in one of the eligibility categories listed above. But USAA also offers, to anybody, investing, life insurance, and shopping discounts.
Be Sure to Compare Apples to Apples
Insurance products can be complicated, so when comparison shopping, be careful you understand what you're buying. Opting for the cheapest policy may not be the best choice for your family—coverage and benefits matter too!
How Does Your Home Insurance Premium Compare?
If you're a U.S. homeowner, is your annual premium above or below the average for your state?
Copyright secured by Digiprove © 2013 Kurt Fischer