Pulse TV Review
Do you like shopping online?
Are you into "daily deal" promotions?
Are you attracted to those "as seen on TV" and other quirky, fun products?
And here's an easy one: do you like deep discounts?
If you answer "yes" to any of the above, you may want to check out online retailer Pulse TV (not a TV shopping network—though the company's roots are in promoting products on television—as I mistakenly first thought).
When a Bargain is Not a Bargain
It's my duty at this point to repeat one of my main mantras for making better money choices:
Buying stuff you don't need at a bargain price does not save money.
But for stuff you do need or an occasional splurge on something fun and interesting, Pulse TV looks tough to beat. And it's a lot of fun just to browse Pulse TV's inventory.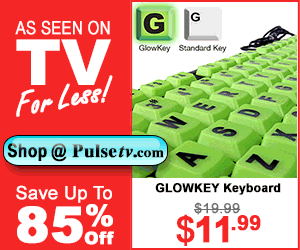 What Does Pulse TV Sell?
Though "as seen on TV" products are offered, Pulse TV sells many diverse products in lots of categories: electronics, kitchen gadgets, weight loss (caveat emptor), pet products, jewelry, health & beauty, tools, DVDs, phone/tablet accessories, $1 deals, and many more. The site's inventory is well organized into thirty such departments, and I found the search tool works really well too.
Here are a few example products I looked up while writing this post:
As I already warned, you do have to be careful on Pulse TV. The place is chock full of tempting products with a high "do I really need this?" factor. One example:
I'm tempted to get one of these—and I don't have a pet! But I do like to launch things (especially at a 75% discount). Hey, maybe I can launch snacks across the room to my buddy while we're watching Hockey Night in Canada! People need exercise too after all! Nah, Ms. Money Counselor would probably nix that.
You really need to have your discipline cranked up beforehand, but it's undeniably fun to browse the Pulse TV shelves. I'd almost bet you cannot visit Pulse TV and come away buying nothing. The site offers PayPal as a payment option; choose that instead of a credit card so you don't risk paying interest on your purchase expense.
Pulse TV Deal of the Day
If you like to have your inbox filled with daily deals to start your morning, Pulse TV  does not disappoint. Here's the Deal of the Day when I wrote this post:
As you can see in the "Today's Deals" box at the right, on this day there were actually four Deals of the Day. Those cleansing/detox foot pads look interesting!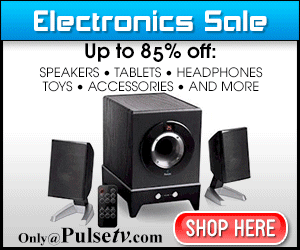 Pulse TV Shipping
First, as is my habit when shopping online, the first thing I checked was whether Pulse TV ships to Canada. YES!
Pulse TV charges a $2 fixed handling charge for each order. So it pays to shop around and get all you need in one shipment. Then actual shipping costs are passed through to the customer. Once your shopping cart is fully loaded, you can get an estimate of shipping costs. The default shipper is the US Postal Service, but you can choose UPS if you want to pay a bit more.

Have You Tried Pulse TV?
If any of you have tried Pulse TV, what' been your experience? Am I the only one enamored with the quirky sort of fun products in which Pulse TV seems to specialize?
As a Pulse TV affiliate, Money Counselor may receive compensation if you buy a product through one of the Pulse TV links in this post.

Copyright secured by Digiprove © 2013 Kurt Fischer